Lensgo308C Mobile Lavalier Wireless Microphone System
【Wide Compatibility】The wireless lavalier microphone system is compatible with Nikon Canon Sony DSLR cameras etc, XLR camcorders, iPhone Android smartphones etc. Wireless lapel microphone is the best choice for YouTube live, Vlog recording, interviews, micro film, podcasts, weddings, ENG and EFP etc

【30 UHF Selectable Channels】Record crystal-clear, distortion-free audio. Adopts international UHF wireless transmission, 1 bodypack transmitter triggered by 1 receiver. Easy to change frequency, just press "+" or "-" button on the transmitting end, and the receiving end will automatically match.

【Real-time Monitoring】The wireless lavalier microphone is equipped with lattice LCD display, HD display battery power, dynamic volume bar and transmitter frequency. During the recording process, real-time monitor whether it works normally. The wireless lavalier microphone system can adjust 15-level volume control.

【Working Hours& Range】The wireless lavalier microphone system, each unit built-in 1200mAh rechargeable battery, which can keep working for 4 hours after being fully charged. The farthest range 164 ft (50m) in open areas, best receiving range is within 98.4 ft (30m).

【Guarantee】We accept returns within 30 days without any reason & 12 months warranty & lifetime customer service. Please feel free to contact us if you have any problems, we are always do do our best to improve our product and better services.
Buy now
Learn how to use: video tutorial
---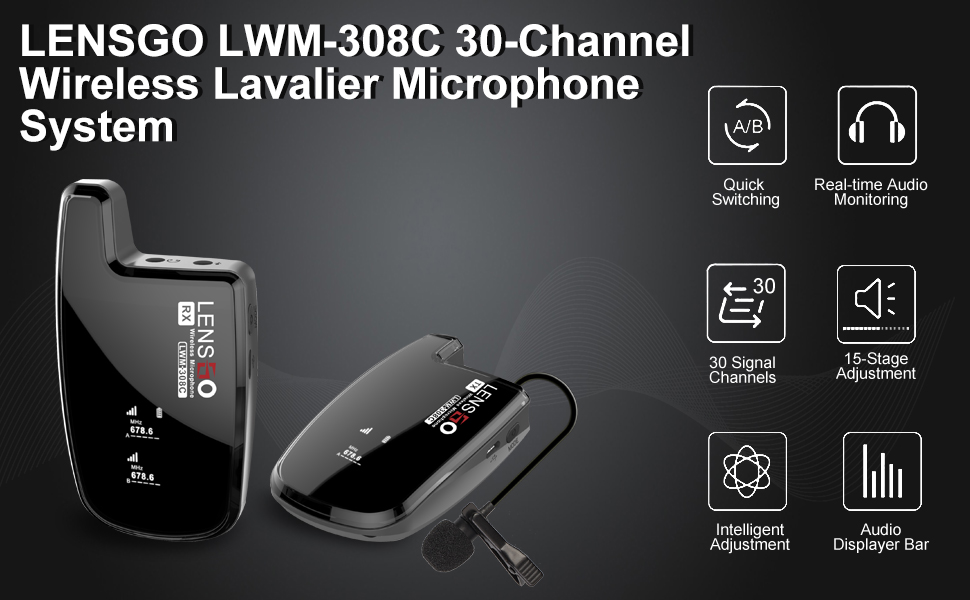 LENSGO LWM-308C Wireless Microphone: Sounds in Sync Everywhere!
LENSGO LWM-308C Wireless Lavalier Microphone system, wireless lavalier lapel mic with 1 Receiver & 1 Transmitter for iPhone Android Smartphone Canon Nikon DSLR Camera. It is the best choice for YouTube Facebook Live Vlog recording Interview Program Hosting Podcast Presentation Church Wedding ENG EFP and More
It uses UHF wireless technology and LED high-resolution lattice screen: 30 channels in total, Auto Channel-match, RF signal strength adjustment, MIC/LINE IN input dual selection, power monitoring at receiver end, sound pickup dynamic display and other functions, at the same time with strong shielding anti-noise performance, it's a high-quality microphone to broadcasting level.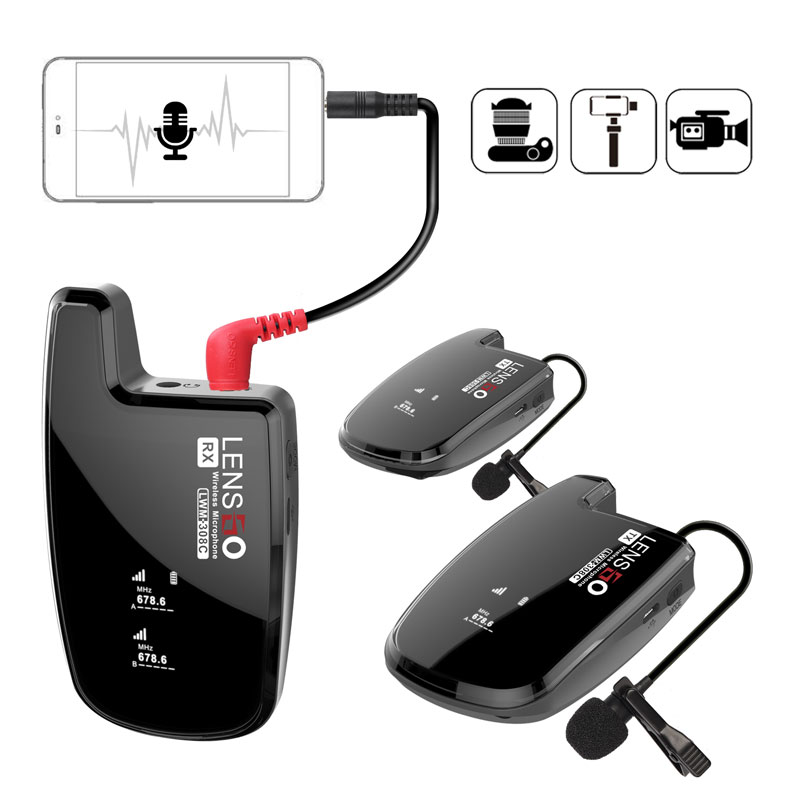 30 UHF Selectable Channels
LWM-308C provides 30 wireless channels for your choice. Default matching or manual matching connection to find the best channel, you don't need to worry about frequency interference.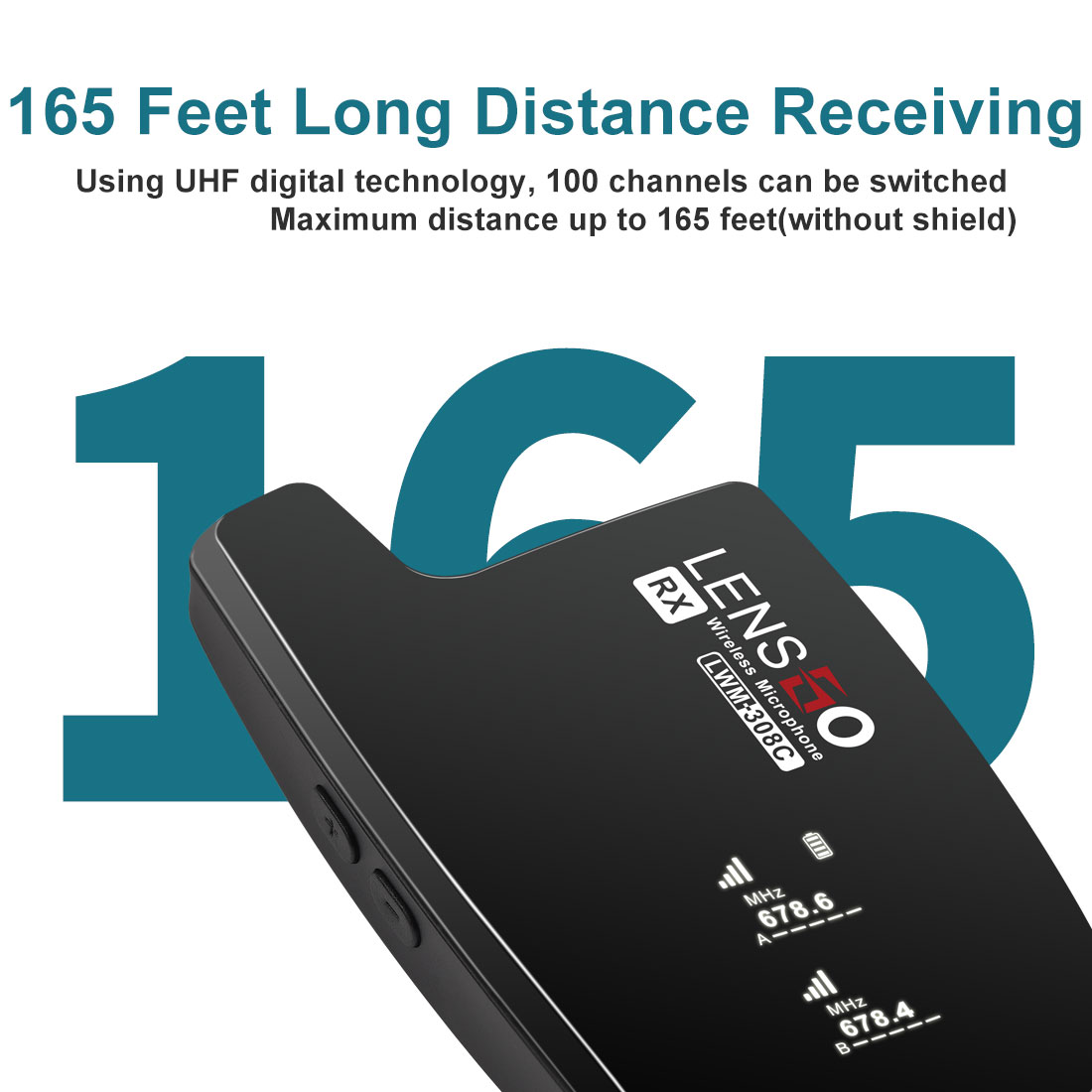 Working Distance
TX Power means operating distance up to about 50 meters(165fts), which is superior than many devices on the market.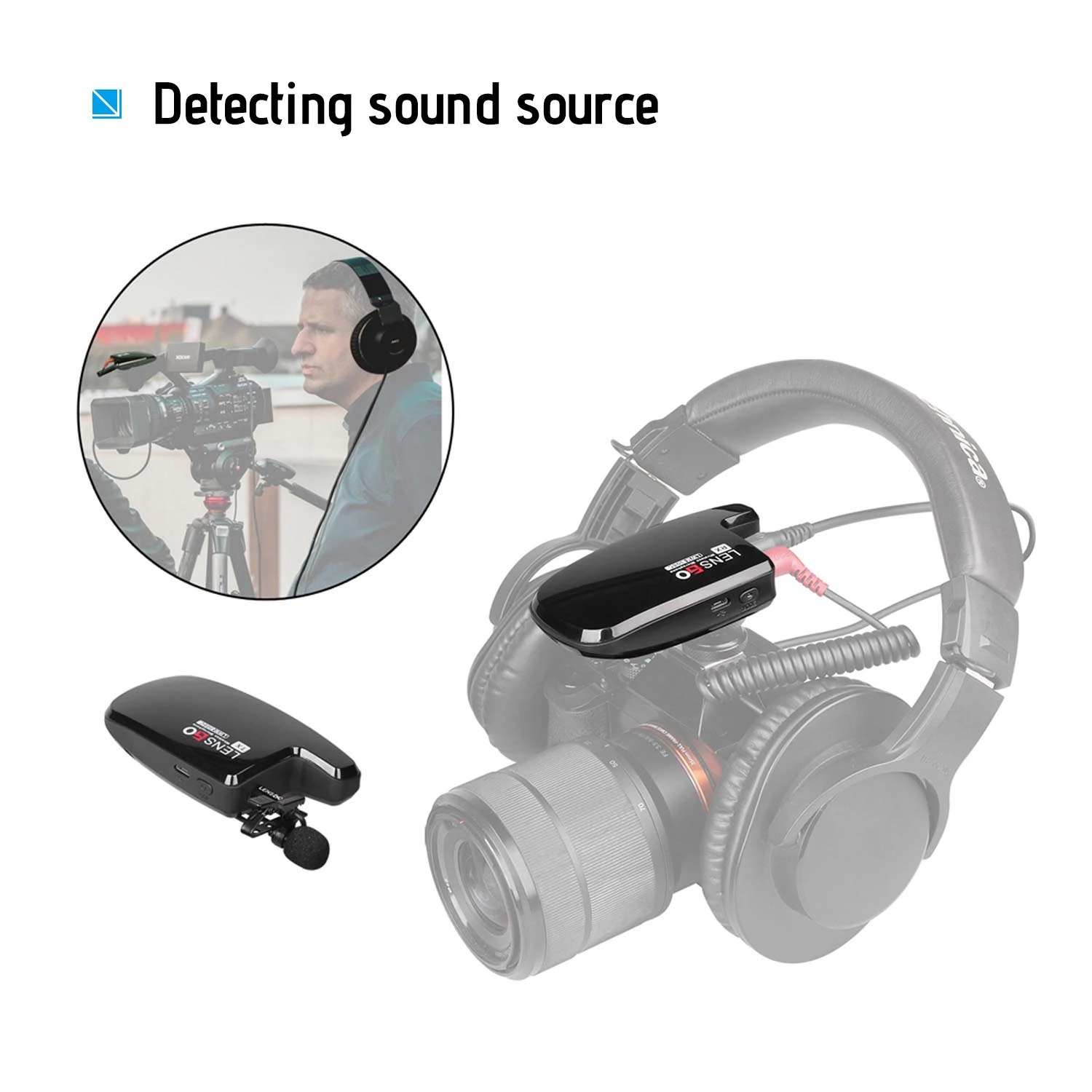 REAL-TIME MONITORING
Receiver (RX) with the real-time monitoring function, you can test whether it is working normally during recording. 308C Wireless Lavalier Lapel Microphone brings you more professional and convenient recording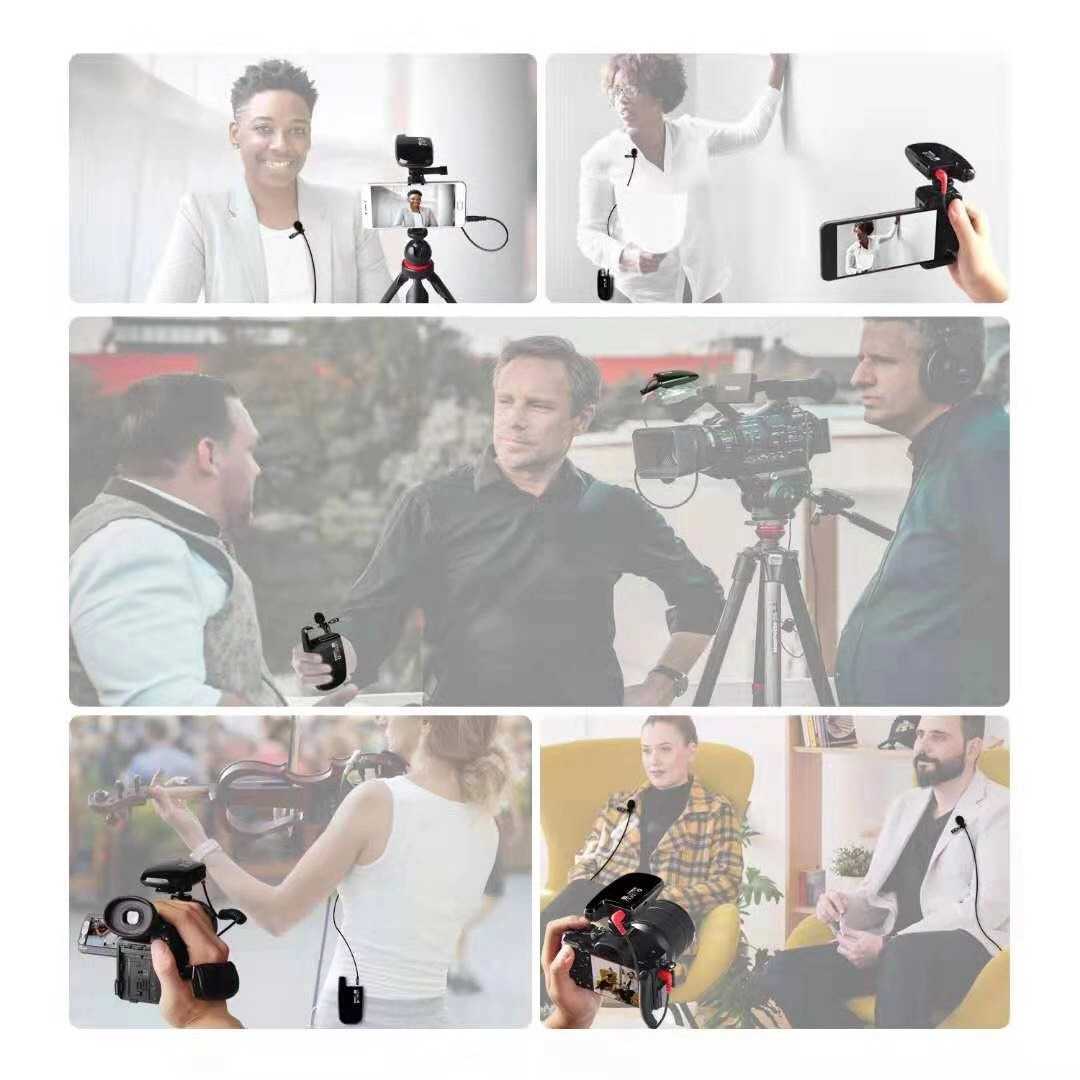 Mountable and Portable
Clip-on microphone for attaching them to clothes. The receiver has a shoe adapter for quick mounting to a DSLR or mirrorless cameras, plus a 1/4'' thread for easy attachment to tripods, light stands and other mounting hardware.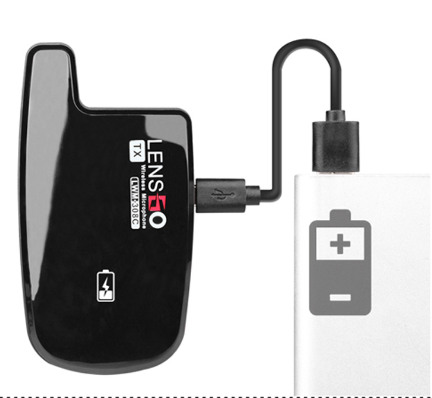 Working Time
Built-in 1200mAh rechargeable lithium-ion battery,a working time of more than 6 hours is possible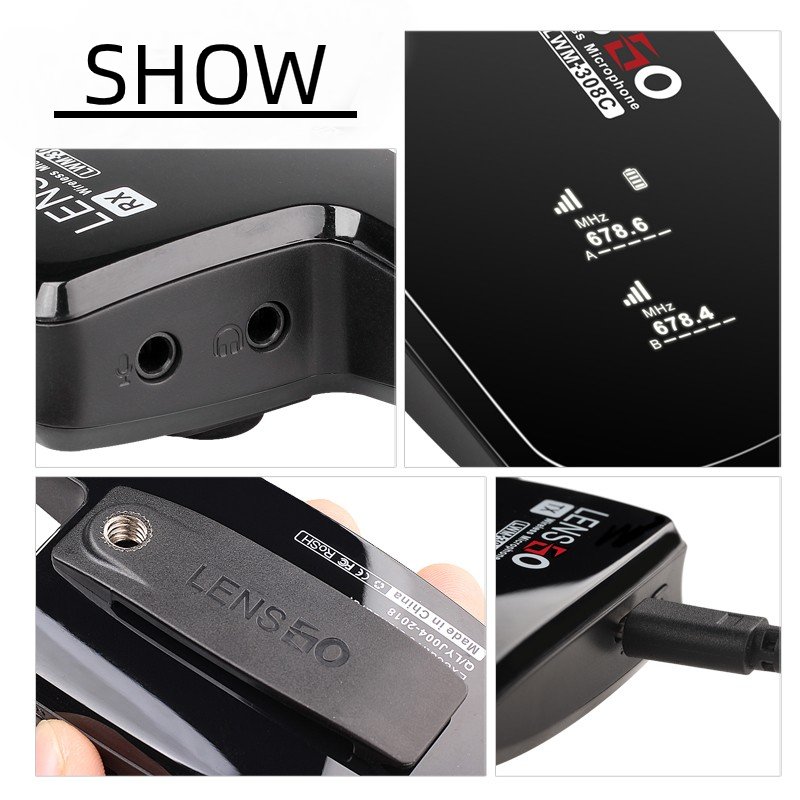 High Quality
"Motorola" Appearance wireless lavalier mic is made of high quality ABS plastic and PCB, has a 3.5mm interface
---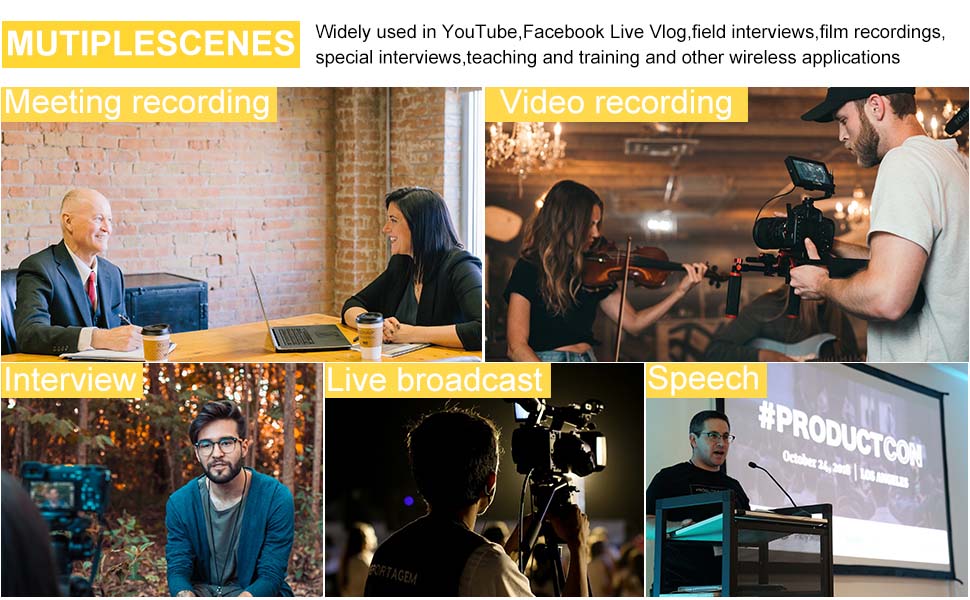 Specification
Specs
Polar Pattern

Omnidirectional
Channels

30

Wireless Frequency
560MHz - 590MHz
Working Distance
50m(LOS),20m(NLOS)
Input Frequency Range
30Hz-20KHz
Receving Sensitivity

-35dB(+/-3dB)/0dB=1vPa,1kHz
Delayed


RF Output Power


Signal/Noise
96dB

Maximum SPL(Mic)
74dB SPL
Maximum Input Level(3.5mm)



Microphone Preamp Gain



Equivalent Noise Level(A-Weighted)



Audio Output Jack


1 x 1/8" /3.5mm TRS Line Out

1 x 1/8" /3.5mmTRS Headphone Output

Input

External Mic
Battery


Built-in 1200mAh Lithium Battery

Working Time

6H
Charging Time



Antenna

1/4 wavelength wire antenna

Operating Temperature


-20°C to + 80°C

Storage Temperature

0°C to + 40°C
Weight


RX 75g, TX 73g

Dimensions


100mm(Length)*53mm(Width)*27mm(Height)



---
What is including the package?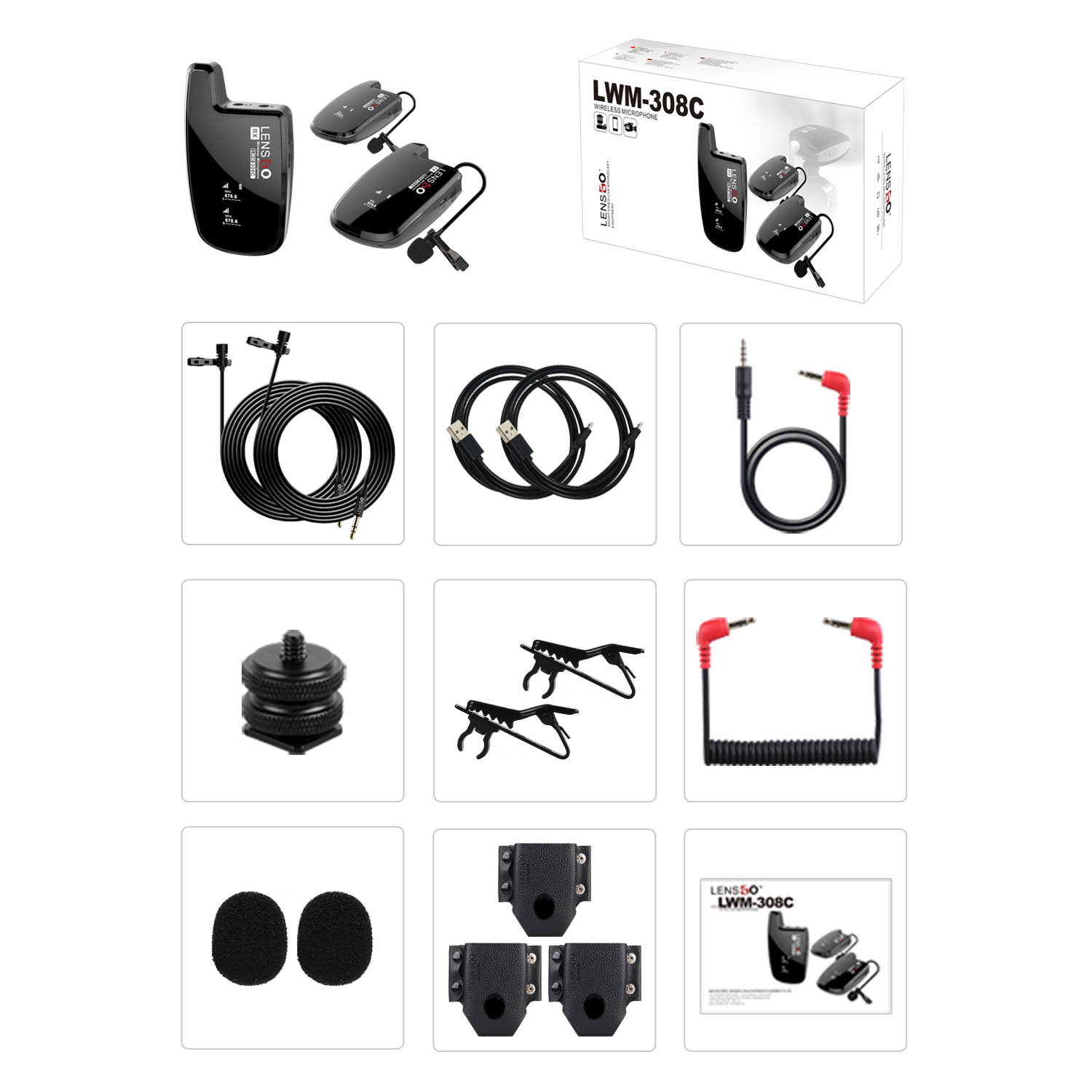 ---
×
FAQs
Hi yeap,it has the function of monitor in the side of reciever.

It is power by li-battery and charged by micro-USB,you can charge arround 2 Hours and the receiver can be used for 6 hours,the transmitter can be used for 3 to 4 hours
It depend on which version you buy it,our latest one can do like that.
The units have a great range, up to about 50m, I think this should be a theoretical value. In fact, it is better to use within 30 meters.
You can adjust the volume of receiver and transmitter in the level of 05.

Turn off the lensgo308c transmitter and receiver.
Turn on the power of the transmitter.
Press and hold the "MODE"button and "+"button at the same time until the LED screen "signal"flashes.

Power on the receiver.
Then wait for a while the receiver and transmitter will match successfully.
Nope it is not a built-in microphone,there is extral wireled microphone including the package.
It has 30 different channels you can use .
Nope,please don't worry of the scratch,cause there is a leather bag including the package to protect it.