LENSGODM30 Camera-Mount Broadcast Shotgun Microphone Can be an External Microphone
The LYM-DM30 shotgun microphone is giving excellent off-axis rejection for desired sounds, which can effectively reduce the noise of the surrounding environment to be picked up.

The unique and attractive shock-proof frame design, soft shock-proof material and original ecological antler shape, can effectively reduce the vibration and noise caused by jitter.


The LYM-DM30 Lightweight microphone has low-cut filter function and 10dB Sensitivity Adjustment. You can choose the low-cut mode when you are in the noisy environmen .


The real-time monitoring interface is connected to the earphone to monitor and detect whether the recorded sound source status is normal and make adjustments.

This shotgun microphone is suitable for video shooting,meeting, and interview,etc.
Buy now
Learn how to use: video tutorial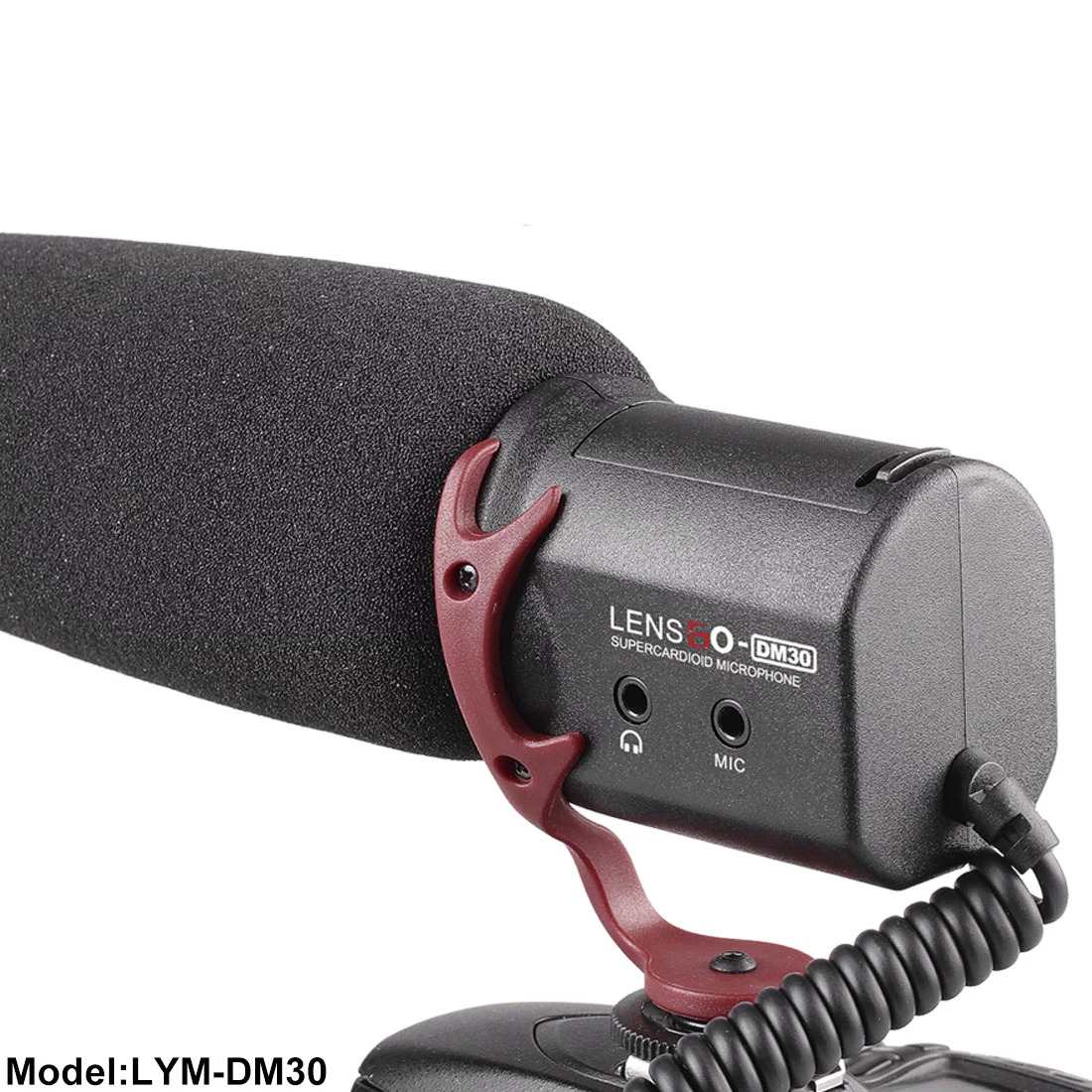 Equipped with external microphone options,form a dialogue recording mode which interviewee and interviewer can be recorded at same time.LensgoDM30 is an optimal for mobile journalists, vloggers, news interviews,budget filmmakers, and run-and-gun shooters in need of a flexible camera-mount shotgun mic that's also at home on a boompole.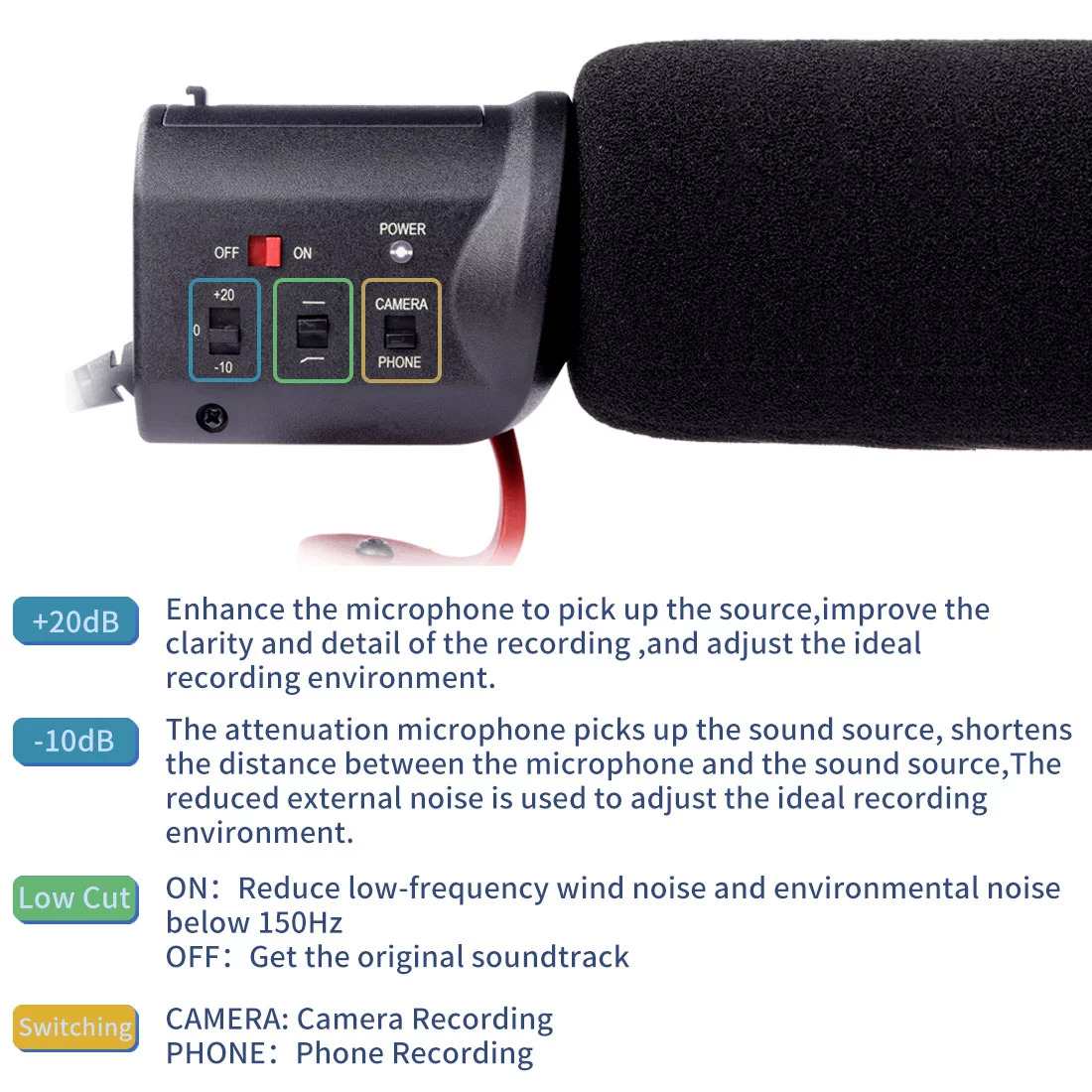 With windscreen options, upgraded RF immunity, adjustable gain, and multiple clarity-enhancing features, which meet the demands of videographers working in a range of indoor and outdoor environments.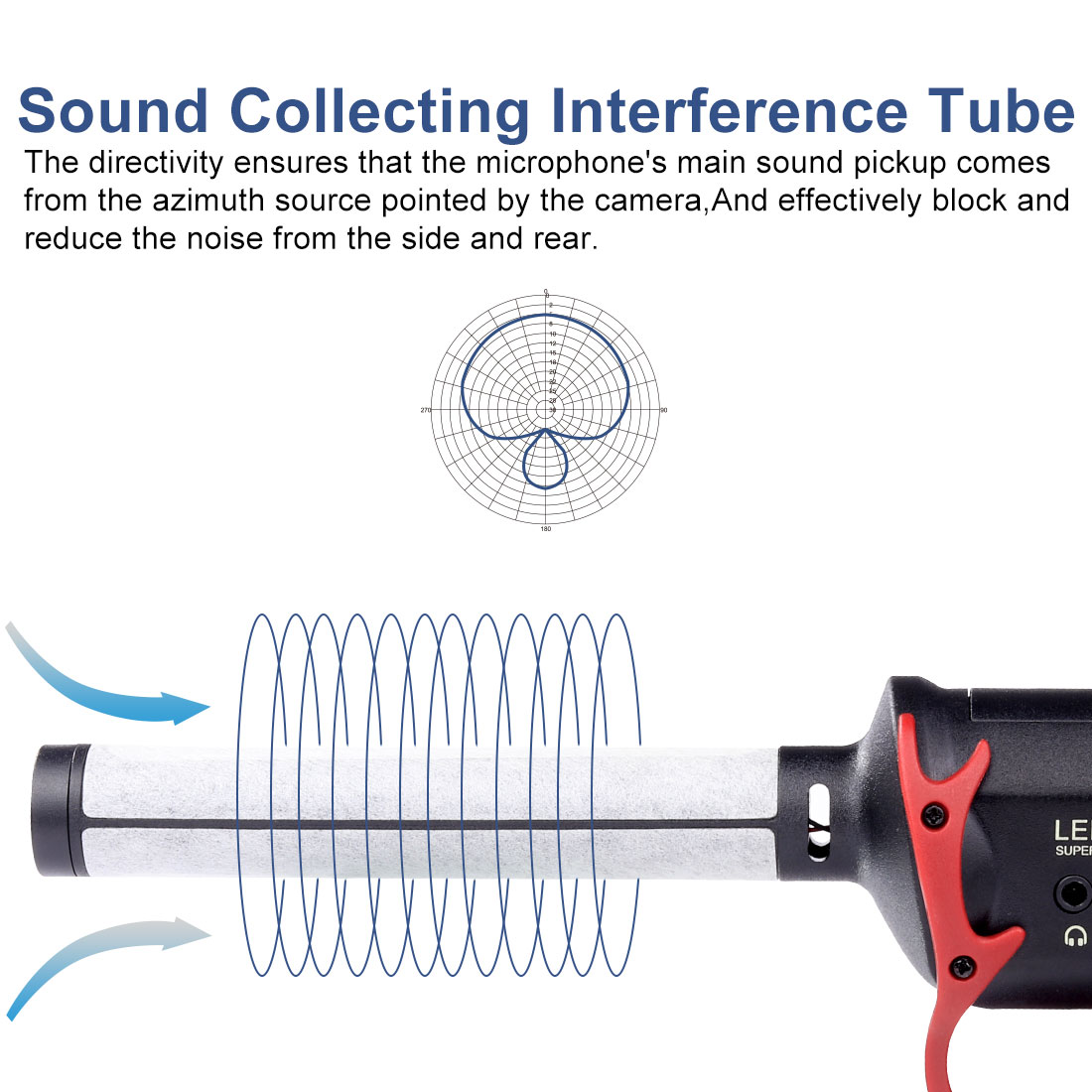 This compact and lightweight shotgun microphone features an integrated camera shockmount that mounts directly to your camera or boompole and reduces noise from various vibrations. The outdoor shooting windscreen designed minimizes wind noise, making it well suited for outdoor shoots. The 3.5mm TRS output cable with camera and phone switch which ensure proper hookup to your camera and smartphone,and the selectable safety channel prevents accidental distortion by providing a duplicate audio signal at a lower level.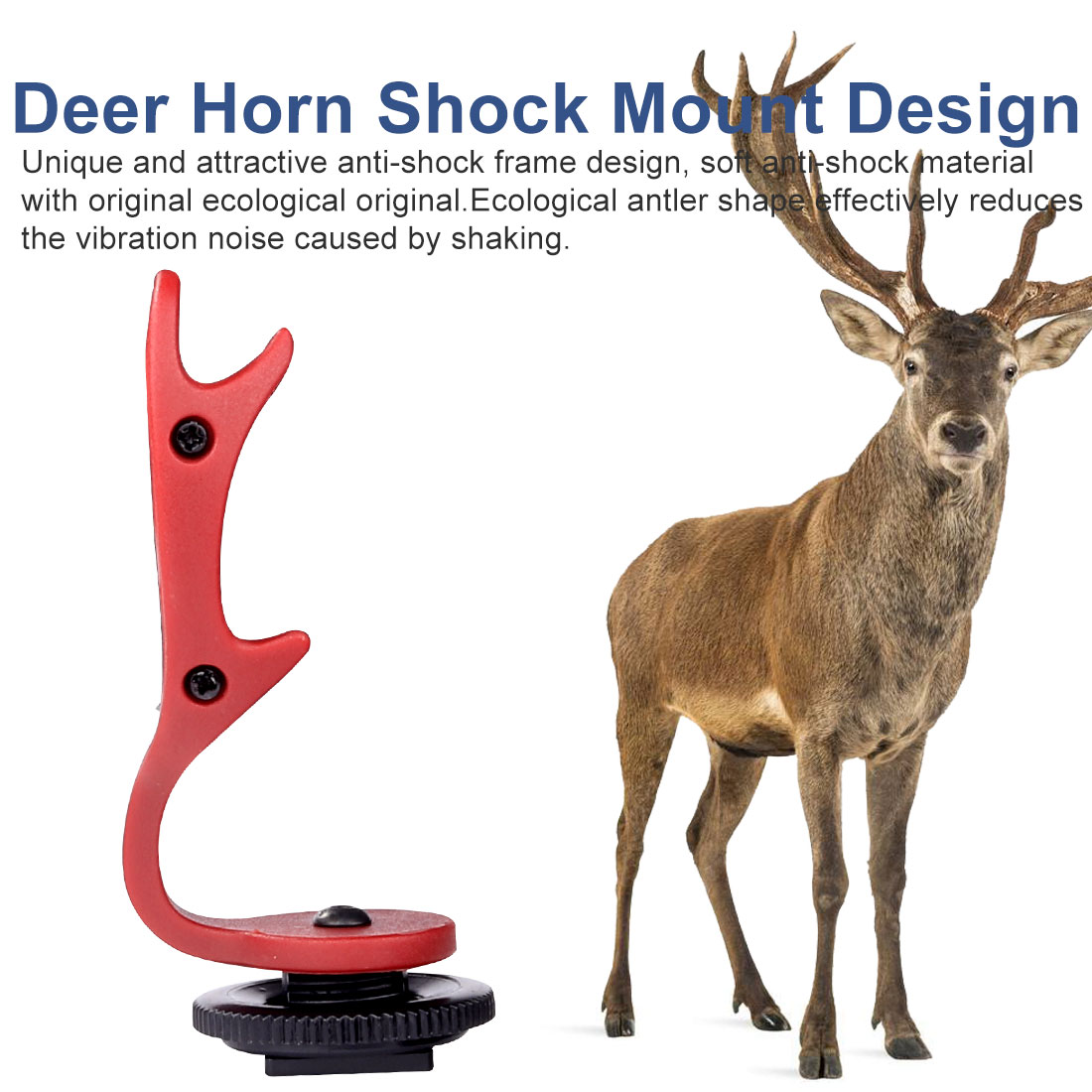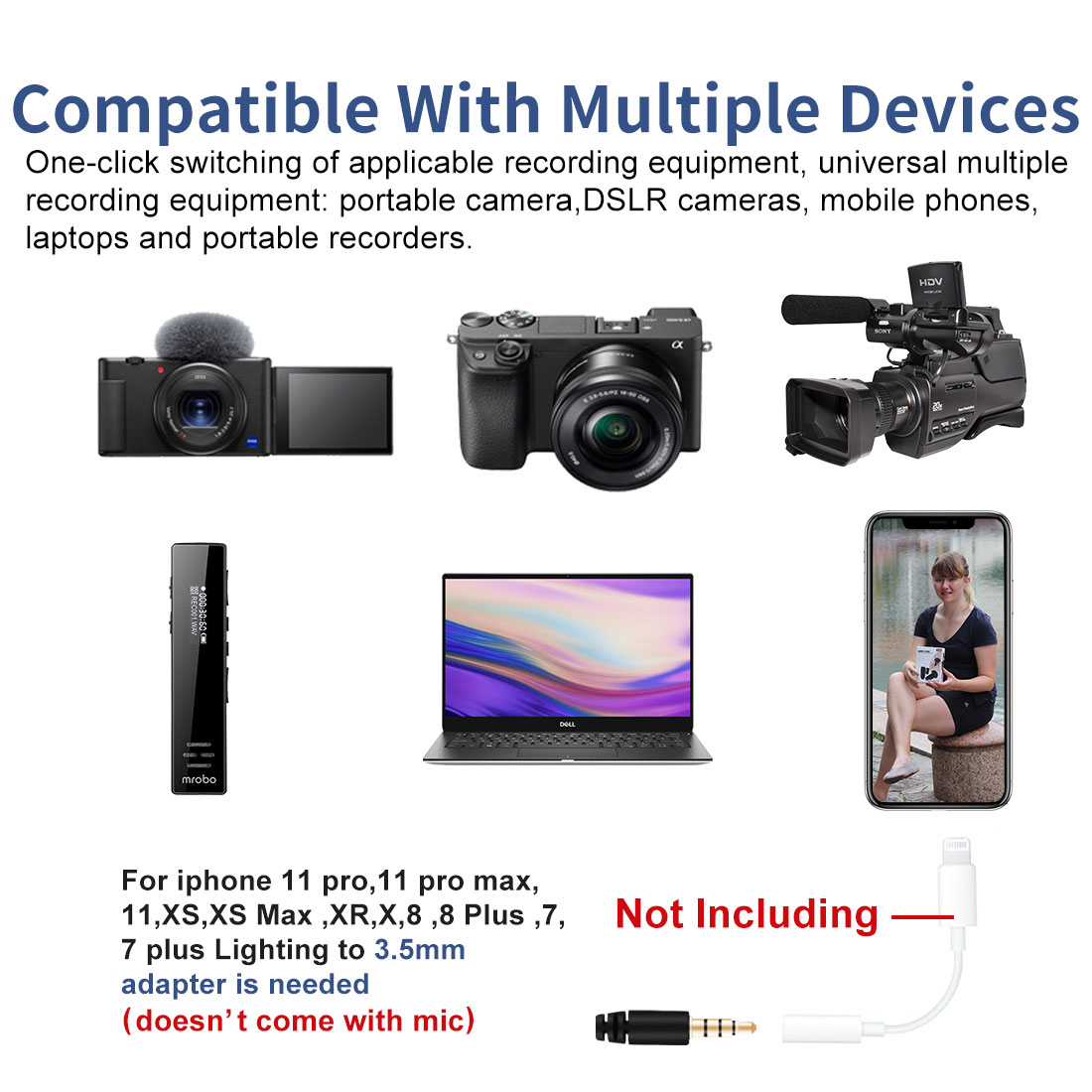 ---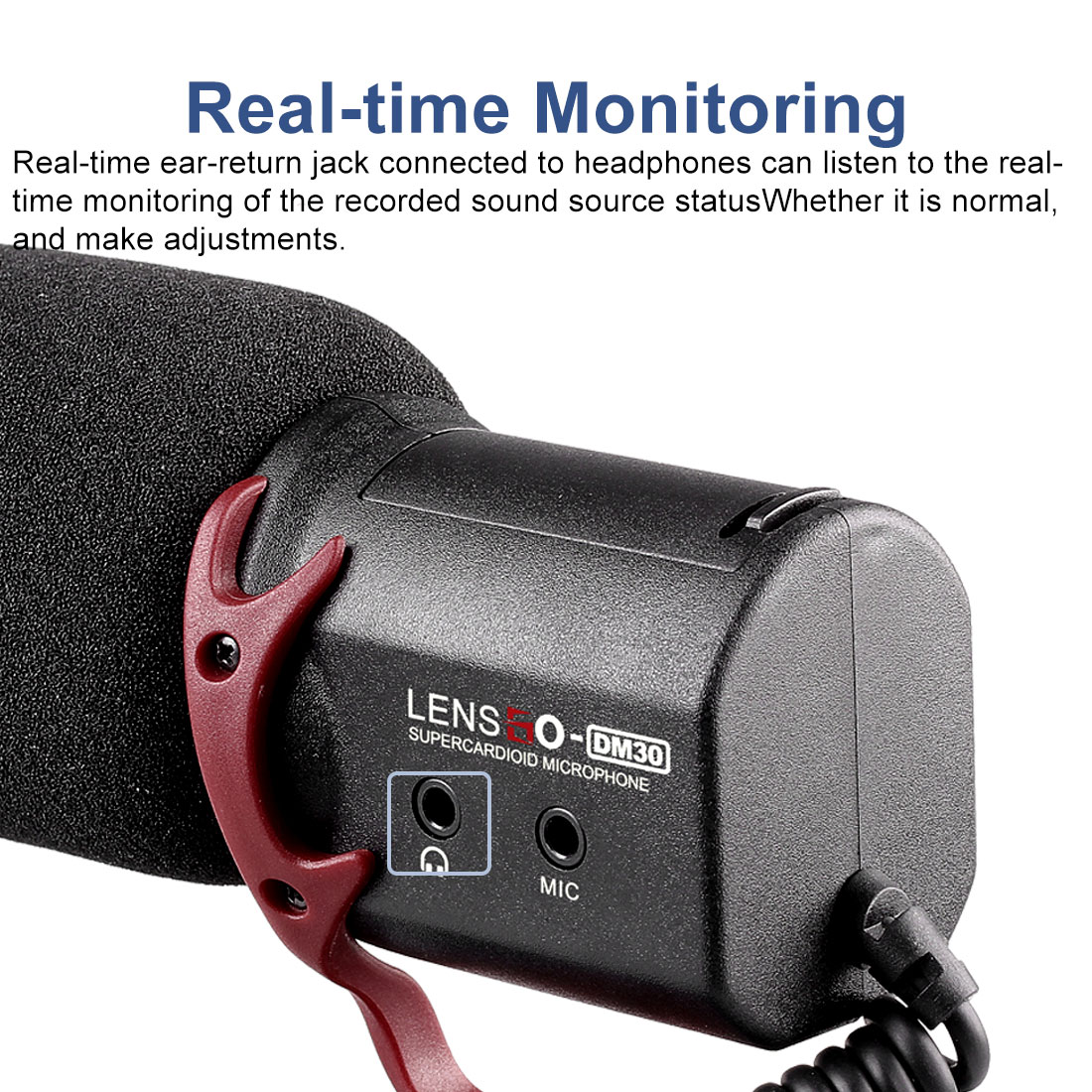 Specification
Specs
Polar Pattern


Super

Cardioid

Material

ABS,PCB

Color
Black
Frequency Range

40-20KHZ

Sensitivity
-38dB 士3dB, 0dB =1V/PA ,1KHZ
SNR

78dB

PAD Switch
+20dB,0dB,-10dB
High-Past Filter

flat,low-cut(80Hz)

Impedance
2000hms 士 30%
Output Connection
3.5mm TRS
Power

AAA *2
Weight
230g
Size
21 x 9.5 x 5.5 cm
---
×
FAQs
The microphone is a mono microphone and thus not stereo, unless you get into the very expensive stereo microphones I think you'll be pleased with the frequency response and quality. Once plugged in, the on-board microphone is cancelled out.
Though it is TRS jack but when you turn the phone button it works with phone when with the lightning adaptor.
Yes there is a screw port under the hot shoe mount.
It is my go-to mic for cellphone rigs. Learn more about it by watching some great YT videos. There are a couple of dip-switches that need adjustment and invest in a dead cat for any outside shots.
A professional shotgun microphone is usually used to capture sound at a distance, meaning that the microphone is trying to pick up low-level signals. This is why a quality shotgun microphone needs to have sensitivity higher than those intended to pick up close sources.
All shotgun microphones use a standard directional microphone capsule – generally one with a tight polar pattern (supercardioid) placed at the bottom of a long, hollow tube with slots along the surface of the tube. In essence, a shotgun microphone operates on the principle of "waveform interference".
The most expensive shotgun mics can only capture audio from a distance of six to ten feet, while more affordable mics sound their best at a distance of three to four feet away. Interviews are typically shot from about seven to ten feet away from the subject.

Basically, you plug your boom microphone into a cable and then plug that cable into the wireless plug on the transmitter, which can provide phantom power and then transmit to the receiver, which you can plug into your DSLR's microphone jack.
It is made of ABS plastic and PCB.
Camcorders 、DSLR cameras、mobile phones、computers and portable recorders.