LensgoDMM1 Directional Shotgun Microphone for DSLR, Smartphones, and Portable Recorders
【Widely Compatible】This Recording Microphone for Camera and Mobile Phone includes both a 3.5mm TRRS audio cable (for Android & Apple iOS smartphones, tablets, and Mac) as well as a 3.5mm TRS audio cable (for DSLR cameras, camcorders and Audio recorders). Suitable for camera, camcorder, voice recorder, iPhone, Android, tablet and laptop.(Note that this product does not include Type-C & Lightning conversion 3.5mm adapter cable)

【Cardioid Microphone】The camera microphone employs a cardioid polar pattern for highly directional recording, focusing on the subject in front of the camera. Universal shotgun microphone with shock mount, it can effectively reduce unwanted vibration, cable and handling noise, thus can give your video a professional sound and can potentially reduce you post-production audio editing work.

【Universal Occasion】 Essential compact shotgun microphone for recording YouTube Vlogs, Tik Tok, interviews, family vacation trips, live music, outdoor events, tutorials. Please keep away from the microphone 2-10ft when you are recording for better sound. The video microphone is a cold boot with a 1/4 inch screw hole and a soft microphone wind shield to filter out wind noises.

【Compact and Lightweight】 Durable copper structure and battery-free design, the size is 22 * 80mm, and the weight is only 80g attach to your camera without dealing with any unwanted bulk or weight. Since there is no battery required in this microphone, you can just plug and play. No need to worry the battery status and complex hookup and paring process.

【What You Get】 1* DM1 Microphone; 1*Shock mount; 1* Carrying case;1*Wind sheild; 1*3.5mm TRRS Smartphone Audio Cable; 1*3.5mm TRS Camera Audio Cable; 1*English User's Manual.30-day no hassle returns & 12 months warranty & lifetime customer service.Please feel free to contact us if you have any questions.
Buy now
Learn how to use: video tutorial
---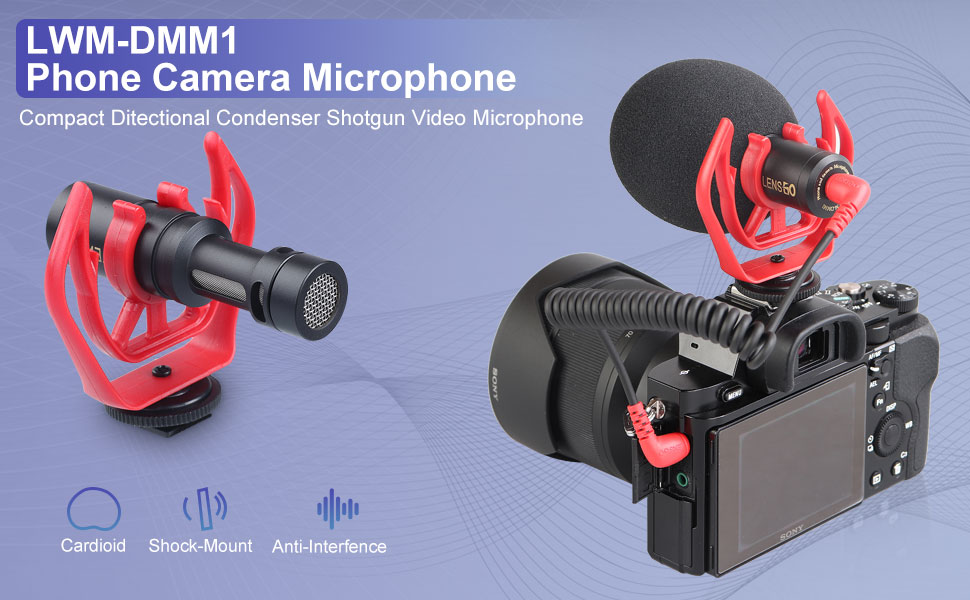 Phone Camera Microphone
LENSGO LYM-DMM1 is a Universal Phone Camera Microphone With Shock Mount Directional Condenser Cardioid Microphone designed to improve audio quality compared to built-in microphones.It is powered by your device,no need battery, plug in microphones with rubber shock mount to avoid the vibrations noise to effect the audio quality.It can work with computer,smartphone,camera ,IOS and so on(if you need contact with iphone,please prepare a iphone adapter to use it)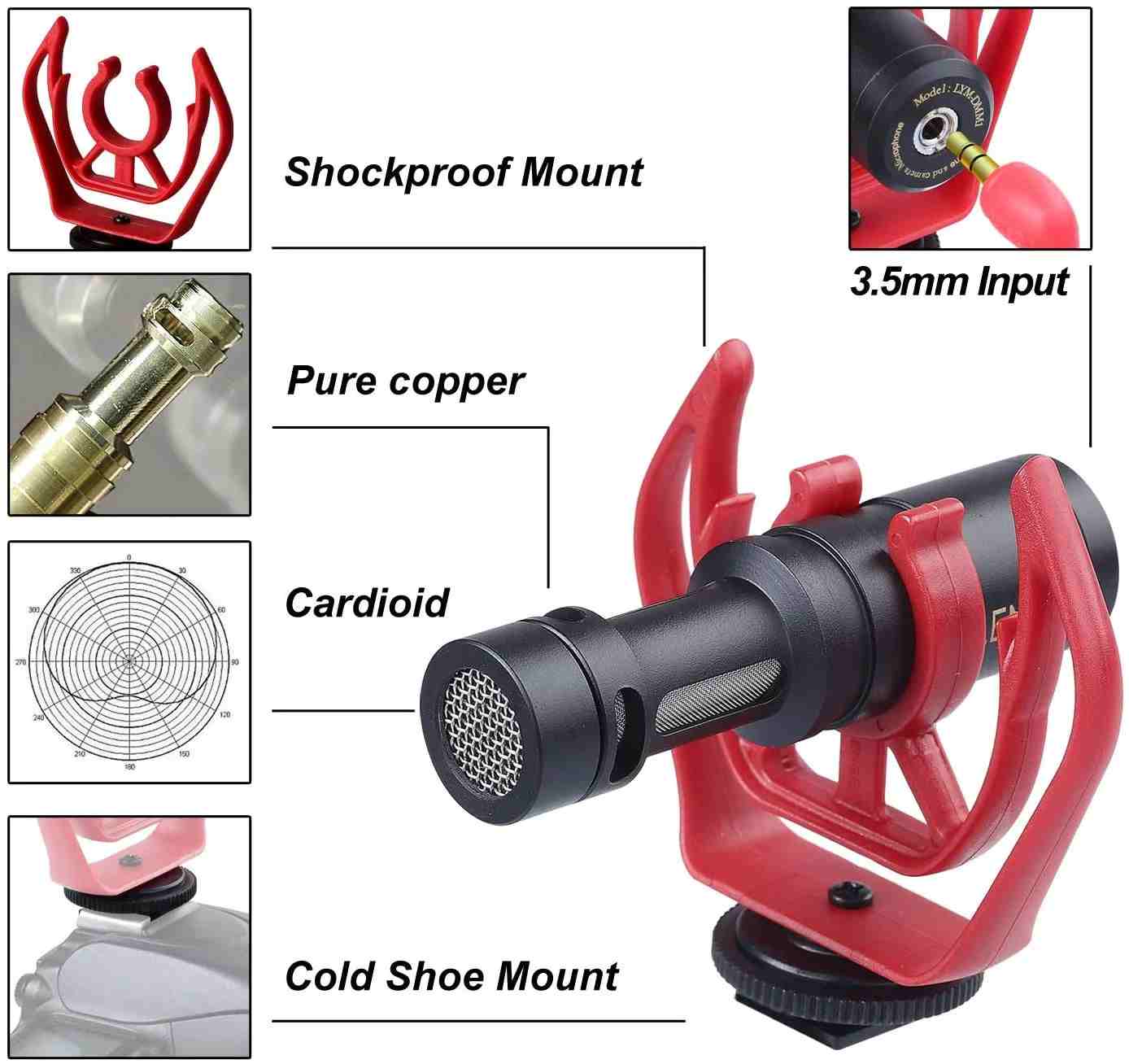 Pure Copper,remember classic
LENSGODMM1 is a on-camera cardioid directivity Microphone ,designed to reduces surrounding sound and focuses on the audio in front of the camera.,pick up your voice at 3 meters distance.the pure copper microphone body providing a more natural sound when recording and bring a sense of thick and classic.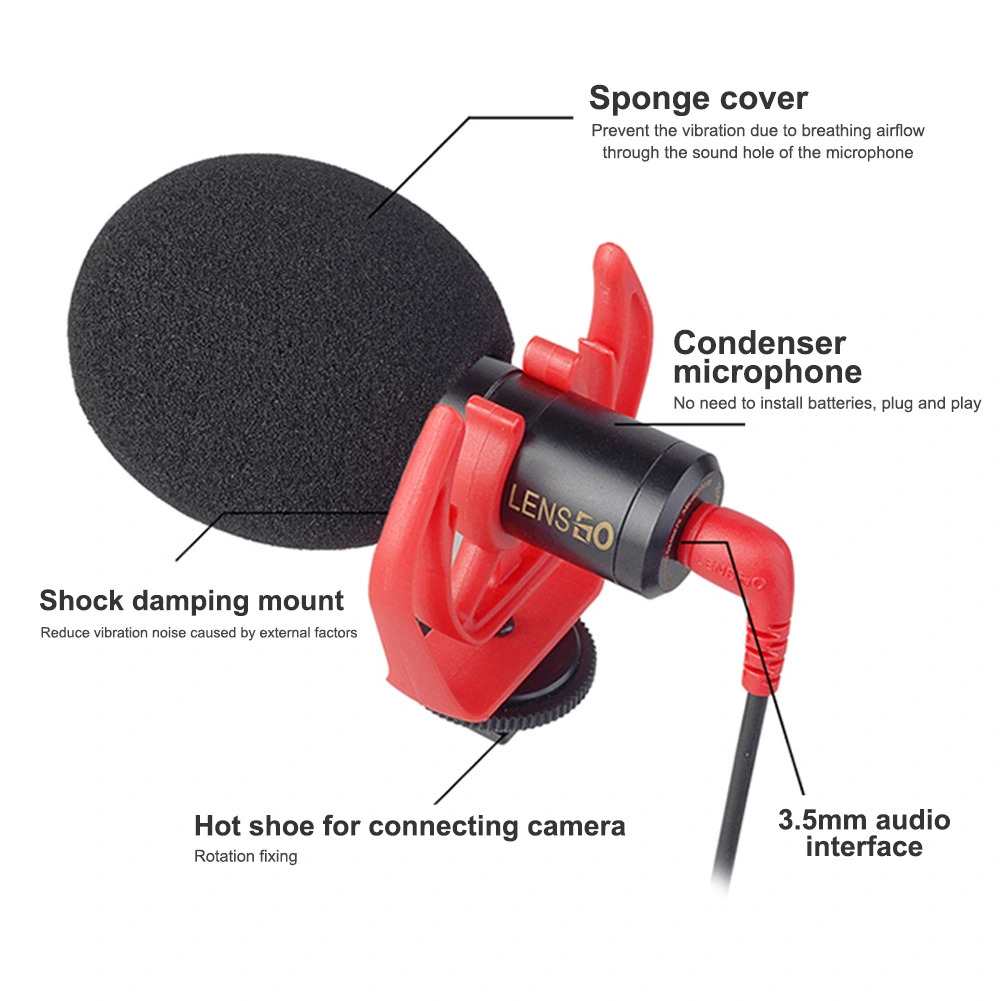 Included the antler design shockproof mount close to the nature everywhere.It is a suspension structure composed of a hard-wearing thermoplastic will never sag, snap, wear out.it is far more effective at reducing unwanted vibrations, handling and cable-borne noise.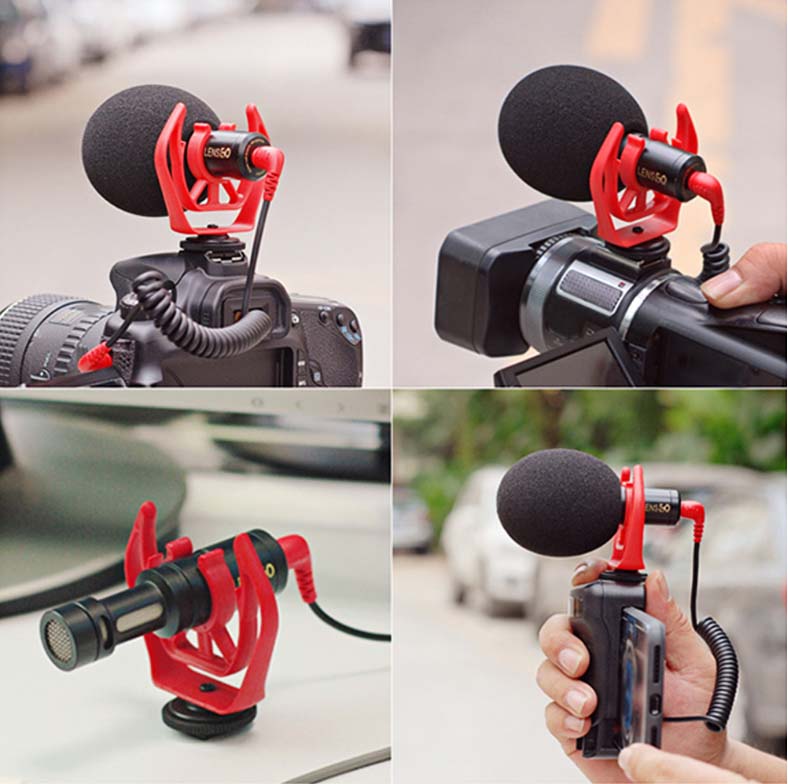 P
rofessional furry wind screen perfect design for outdoor recording use. Optionally available 3.5TRS/TRRS cable to afford
a wide range of camera,smartphone,tablet,camcorder,mixer,recorder and other audio/video devices.It is a plug and play operation and no battery required,you can carry it at anytime and anywhere.
---

Specification
Specs
Polar Pattern

o

n

-c

amera cardioid

Material

Pure Copper+ PP plastic

Color
Black
Frequency Range

50-20KHZ

Sensitivity
-35dB 士3dB, 0dB =1V/PA ,1KHZ
SNR

60dB

Output immpedance
<2.2kΩ
Power Consumption
<500uA
Power Options
No battery required
Output Connection
3.5mm TRS and TRRS
Dimensions
ф 22* 82mm
Size
5.7 x 5.1 x 2.8 inches
Working Distance
Within 3 meters pick up voice
---
What is including the package?
---
×
FAQs
If your going to use it with an smartphone which is without the 3.5mm jack then you will need to buy the adapter type-c to 3.5mm jack,micro-usb to 3.5mm jack,or the lighting to 3.5mm jack.
There isn't a way to adjust the gain on the mic itself but as long as you're using a recorder or camera, there most likely is a volume/sensitivity option.
We suggest you shot the video at the distance of 3 meters.
Cause it is used for pick up the direction voice at a certain distance.if you work very near to the smartphone and camera it will no need to use that device.
Yeap,it is .It has a standard 3/8 and 1/4 thread built into the bottom of the cold shoe mount,so that you can connect with the device for your choose.
The furry windscreen in the picture comes with the microphone in the box.
Yes, absolutely. You can clip it turned 180 degrees!
Yes, it is, as long as your camera can supply the Plug in power needed to run this mic.
this microphone comes with an 1/8" 3.5mm male TRS cable and requires plug in power to function. If your wireless transmitter accepts this input and supplies that power, then yes, it should work.