LENSGO 318C II 2.4GHz Dual Clip on Wireless Lavalier Microphone
LENSGO 318C II
2.4GHz Dual Clip on Wireless Lavalier Microphone for Canon Nikon Sony DSLR Camera Camcorder Android Rechargeable Lapel Mic for Video Recording Interview TikTok YouTube Live Streaming
, support double radio, real-time ear monitoring, mobile phone camera computer tablet universal.
Selling point:
① 2.4GHz Wireless Transmission Tech
② Wide Compatibility
③ Easy Automatic Connection & Real-Time Monitoring
④ With Magnetic Suction Charging Function,7 hours on a single charge
⑤ 2 Year Warranty
⑥ Transmission distance up to 100 meters
What's creation?
①Wireless self-priming charging, 7 hours of battery life, RX has a built-in 1000mAh lithium battery, which can provide backup power for about 3 hours after two TXs are charged once. Sync charging
②Intelligent noise reduction, clear sound quality, built-in noise reduction chip, strong anti-interference ability, effectively identify the original sound, reduce environmental noise, and still record clearly in noisy environments
③Double-click to turn on/off the reverb, to meet the entertainment live mixing effect, and enjoy the 3D surround sound effect,Press and hold for 3 seconds to connect automatically
④Real-time ear monitoring, during the recording process, real-time monitoring of the sound source to ensure the recording qualit
⑤Small size, easy to carry with you when you go out for shooting,Magnetic shoe clip, portable and easy to install,can be hidden and worn when exercising, the magnetic force is strong and will not sag or fall
⑥100 meters away wireless transmission, face to face in an open environment, low latency, audio and video synchronization
⑦Compatible with different devices on the market, cameras, mobile phones, tablets, computers, recommended collocations, LENSGO Poetry Prompter and shooting stand, can meet your various shooting needs.
Buy now
Learn how to use: video tutorial
Specification
Specs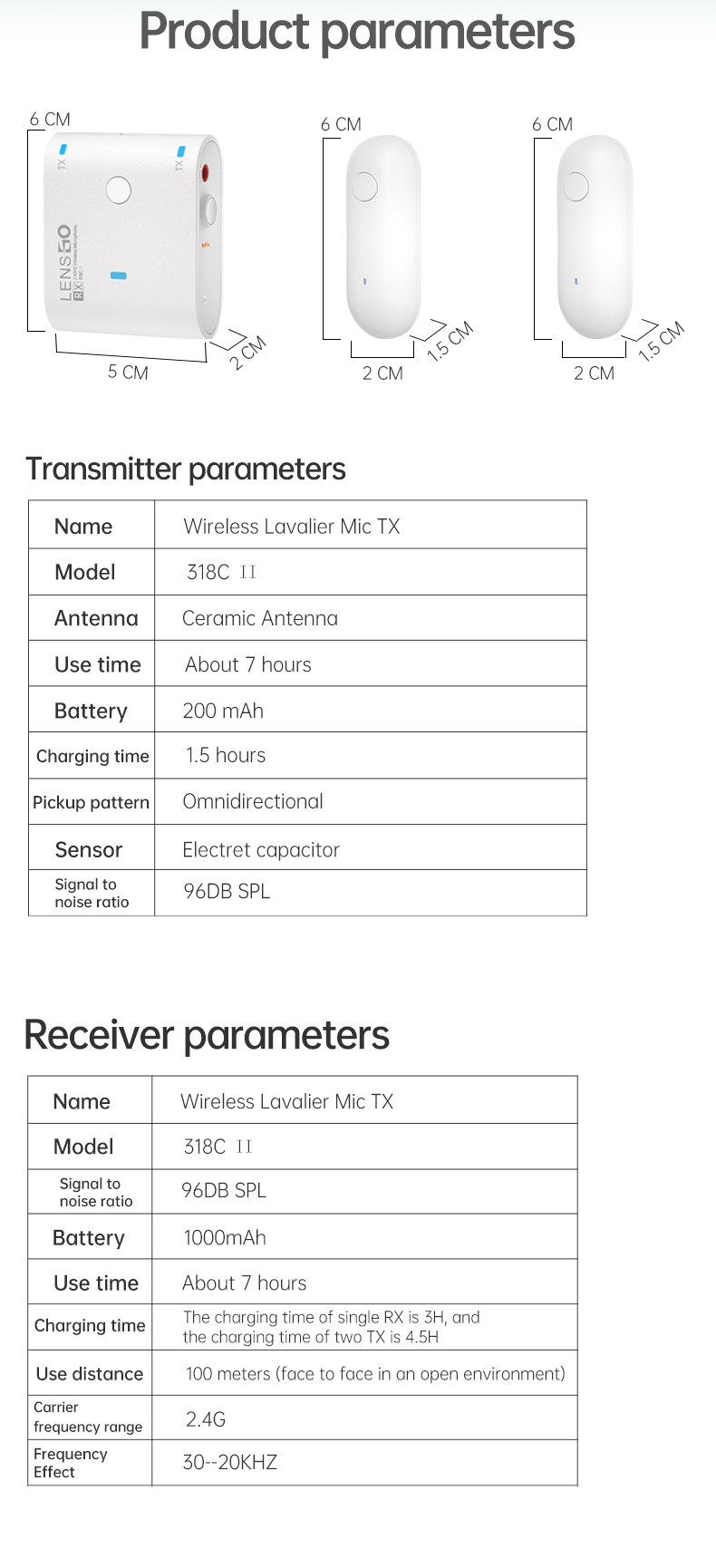 ---
×
FAQs
1. Switch between different channels, make sure that the receiving and transmitting are on the same channel. 2. Try recording indoors, where there is less RF interference. 3. Keep away from conductive objects such as metal and water. 4. Telephone lines and metals can interfere with wireless microphones
1. Make sure that the line of sight to the transmitter and receiver is unobstructed. 2. Your body, clothing and stage set can all get in the way. 3. Make sure the transmitter is within 50 meters of the receiver. 4. If there are obstacles, you may need to reduce the distance from the TX to the RX
Turn down the audio input level of the camera or recording device. Decrease the audio output level on the receiver.