Lensgo DL77 Large Diaphragm Cardioid Condenser Microphone
balanced and neutral frequency response. Unlike most condenser microphones, this microphone doesn't sound harsh, won't stand out in your mix, and won't tire over time.

Our 34MM gold-plated large diaphragm capsule is manufactured with the most sophisticated machinery to achieve higher sensitivity, which can reproduce subtle sounds. This makes it a perfect choice for a variety of sources.

Lightweight microphone has low-cut filter function and 10dB Sensitivity Adjustment.

Our microphone body and frame are made of stainless steel, with a wire drawing process to protect the pole and ensure that each of our microphones can be used for a lifetime.

To connect to a computer, please use an appropriate USB audio interface that can provide 48V and an XLR to XLR cable.
Buy now
Learn how to use: video tutorial
---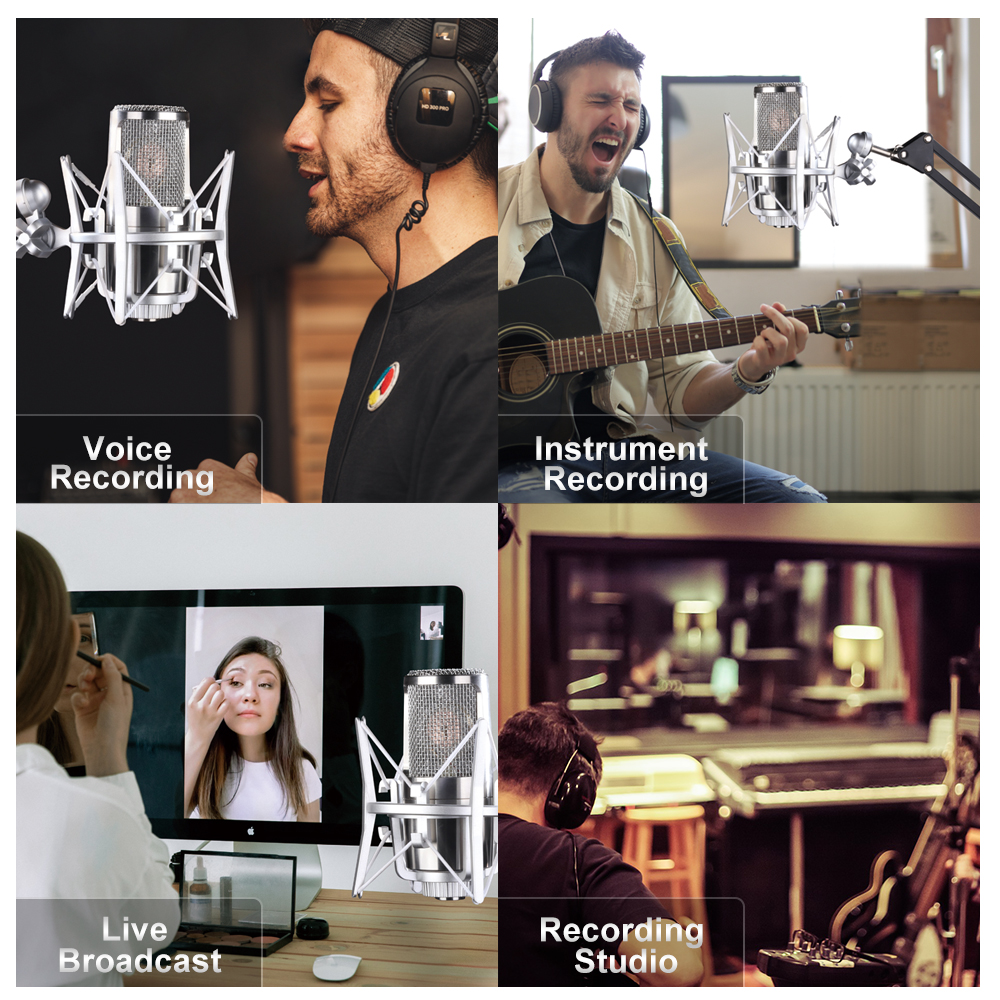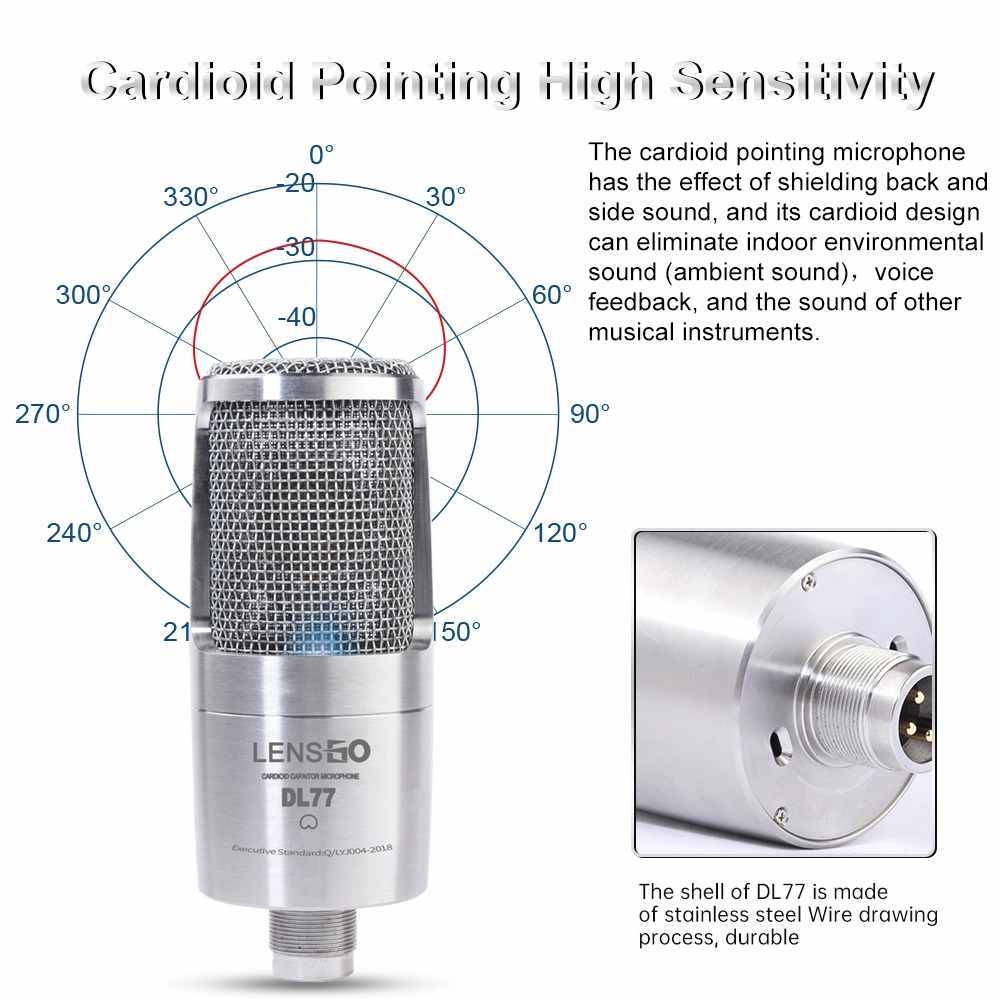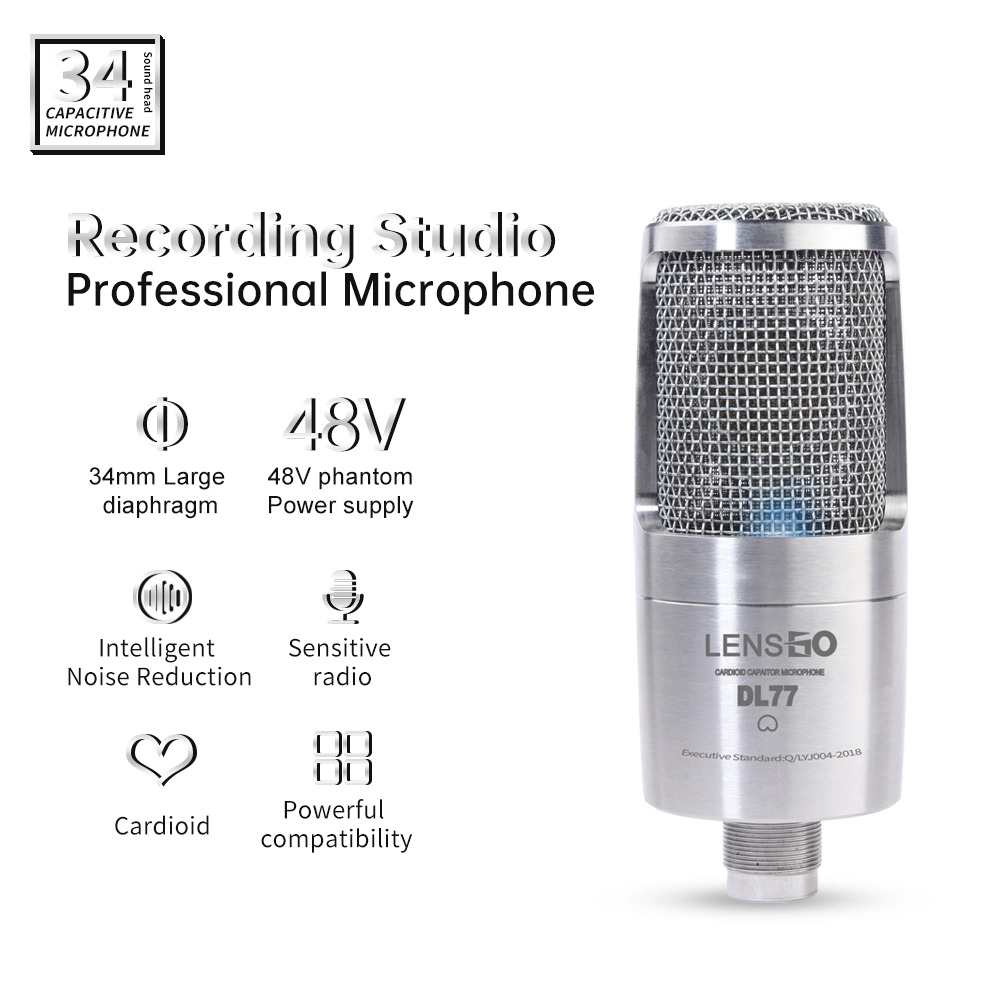 Specification
Specs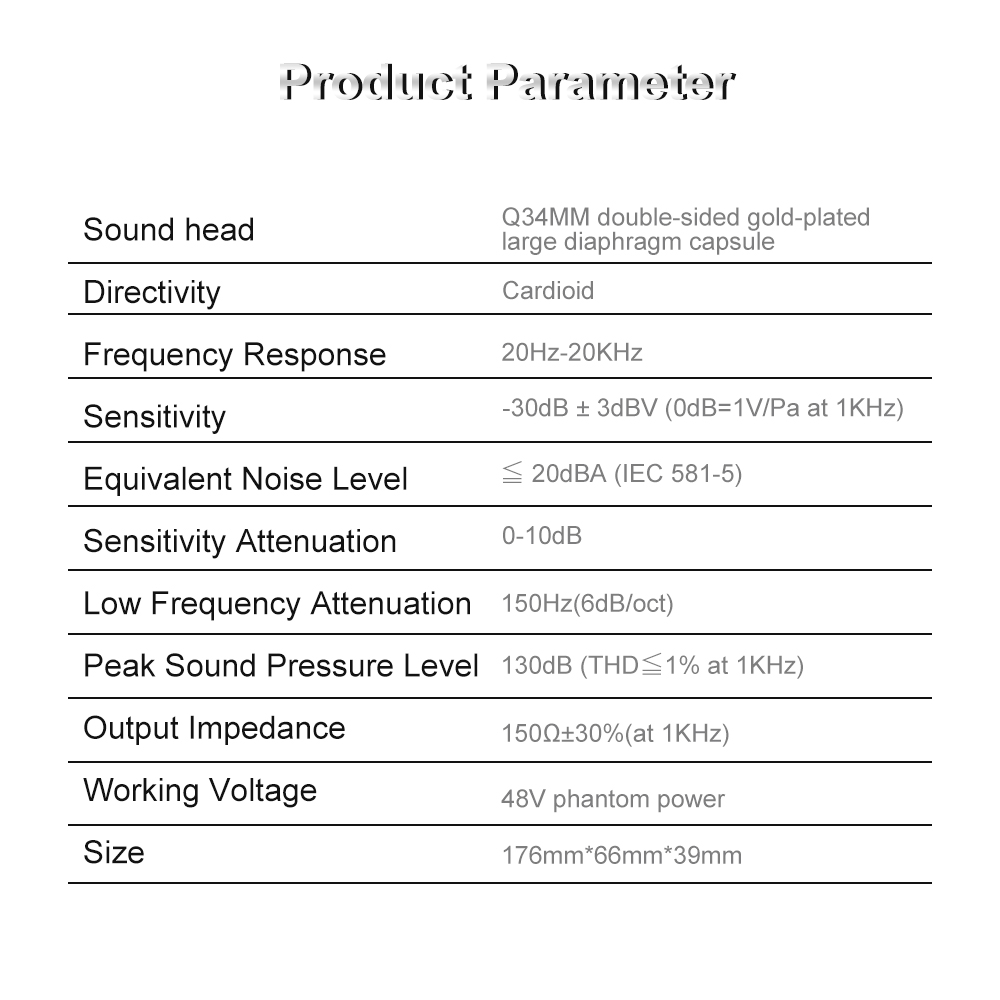 ---
×
FAQs
Yes it is a very good vocal microphone. I have used it for both vocals and acoustic guitar.
I believe it says on their website that the capsules are hand made but the enclosures are made in china. I would check their website.
The mic has very low noise and is fairly flat in its frequency response. Good bass, clear midrange (vocals included) - it benefits from a pop filter, as do most condenser mics, but the shock mount which comes with it is decent and the mic itself is fairly compact (surprisingly small and rugged) so would work well on a boom for video recording voices, for instance. Overall very decent mic at very decent price. External and internal build very high quality and sturdy.
This unit comes with the following: Microphone itself, shock mount, foam wind cover, leather pouch, and metal case. It does not come with either cables or a 48V phantom power supply. However, both the cable and Phantom power supply are relatively cheap. This is an excellent sounding microphone (and I have many!)... simply an excellent deal for quality you'll be enjoying. I love singing with this mic.
It does require 48v of phantom power and is not designed for use with a phone. The Lightning port does not support phantom power. maybe if you have an audio interface but the Mic by itself will not work.
Understanding you want to record sound in your computer, using a DAW. You need XLR cable from Mic to a Pre-amp, a Pre-amp, and a USB cable from your Pre-amp to your computer. All these available in Amazon.
It goes in and out of stock on Amazon, so you just have to keep an eye out for it. You can also purchase it directly from the manufacturer.
I believe any boom arm works but if you use the included shock mount you might need a 5/8 inch male to 1/4 inch female adapter to attach them. I had to get that because the boom arm I got had a smaller screw.
No it doesn't but it doesn't need it. The noise floor is practically nil - no noise. As good if not the same as the Neumann U87 costing 3200.00. I bought 2 of them. Excellent. All is determined by the equipment noise floor used.
The microphone has a low noise floor which would make it a good mic for voice-over work. It i a good choice for vocalizations or other singing and is - actually - a good overall microphone for instruments and guitar cabs. For voice and singing you will need a pop filter - for instruments and cabs that won't be required.